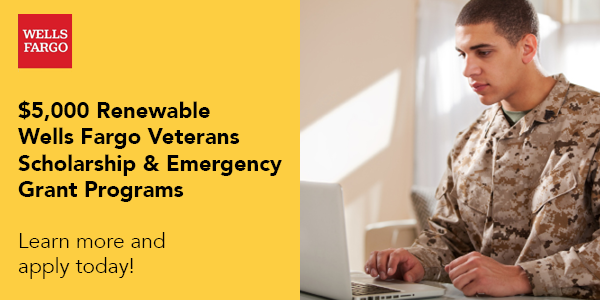 Now accepting applications. Please help spread the word! 
Scholarship America and Wells Fargo are pleased to announce the 2022 Wells Fargo Veterans Scholarship, Wells Fargo Veterans Emergency Grant programs.  
The Wells Fargo Veterans Scholarship Program provides renewable scholarships up to $5,000 per year, to fill gaps for eligible veterans, their spouses and widows after military benefits and other grants and scholarships have been utilized. The deadline to apply is March 11, 2022. 
Wells Fargo's Veterans Emergency Grant program helps veterans already enrolled in postsecondary education meet their household expenses when faced with unexpected financial setbacks. Ranging up to $1,000, these immediate, one-time grants are designed to keep recipients in school without creating undue financial hardship. 
As a Dollars for Scholars volunteer, you're in a unique position to reach out to veterans, students, mentors, organizations and supporters in your community. Please take a moment to share the links with those in your hometown to spread the word, so we can ensure they are aware of these opportunities to get the help they need.  
On behalf of everyone who stands to benefit from these scholarships and grants, we thank you!